It's time for another pair of prospect reports! After revealing the first two players inside the Top 10 last week, we're back with another pair of future Kings – and both are defensemen.
For anybody new to our rankings, know that you've come to the right place. Many view this as the definitive guide to the team's draft picks and next wave of young players. As in past years, we've gone through this process in painstaking detail to ensure these reports are unmatched in quality and content. Quite simply, nobody outside the Kings organization talks to more coaches, scouts, and General Managers about LA's top prospects on a regular basis than MayorsManor team. Endless hours go into evaluating players and preparing our write-ups – including debating info with a myriad of well-respected hockey people, along with our key sources inside the Kings organization – before the final list is completed.
Below are links to previous articles in the 2020 series, as well as two all new reports.
Goalie Depth Chart for Kings Organization
Honorable Mentions – Mikey Eyssimont, Jacob Moverare, Jordan Spence, and more
2020 LA KINGS MIDSEASON PROSPECT RANKINGS
15. Kim Nousiainen
14. Cole Hults
13. Sean Durzi
12. Aidan Dudas
11. Samuel Fagemo
10. Jaret Anderson-Dolan
9. Akil Thomas
8. KALE CLAGUE: Defense, Ontario Reign (2nd round pick in 2016, WHL)
Last Season: 7 goals, 22 assists, minus-20, 34 PIM in 52 games played (AHL)
This Season: 8 goals, 17 assists, minus-14, 26 PIM in 49 games played (AHL)
Clague is one of those highly decorated players the Kings have brought into their pipeline over the past few years. He won two medals with Team Canada at the World Junior Championship (2017 silver and 2018 gold). In 2018, the Alberta native was recognized as the Top Defenseman (Bill Hunter trophy) in the WHL. Last season, he made his AHL debut and promptly picked up his first professional point in his first game.
Although all players don't develop at the same rate, there is a common theme discussed by scouts and coaches – it generally takes until about Christmas of a player's first season in the American League for him to adjust from junior/college to pro hockey. Clague is no exception.
Take this quote from Reign coach Mike Stothers in December 2018:
Stuts w/praise for Clague's improved play – "He's been really good; starting to show his skating ability & get into plays. His skating allows him to do a lot of things for us, create offense & defend. Looks more like the player we were told about… [He's] growing and maturing."

— John Hoven | The Mayor (@mayorNHL) December 17, 2018
Around the same time, a few other defensemen were promoted to Los Angeles and Clague's minutes began to expand in Ontario. Fast forward three months later and the Kings were so impressed with the young blueliner's play, they made the decision to call up Clague to the Kings. Unfortunately, he broke his foot the night before the transaction was made official. Surgery, rehab, and a summer of training led to an optimistic Clague looking ahead to the 2020-21 season. Disappointed he was unable to make the big club out of camp, he continued to put in the hard work and wait for his opportunity. Eventually, he made his NHL debut this past December in Buffalo. A trip to the AHL All Star Classic followed in January.
Kale Clague on his shootout goal – "A few guys on the bench told me to do it. I've tried it in practice before. It worked out well. The goalie just rolled right over for me." https://t.co/fWaLXzdW5K

— John Hoven | The Mayor (@mayorNHL) January 28, 2020
What the Kings have in Clague is a future second pair defenseman. The question is, how long will it take him to reach his full potential?
From a recent chat we had with a significant member of GM Rob Blake's inner circle – "Clague skates pucks out of trouble. His legs (skating) are his strength. On retrievals, he can get back for pucks quickly and get pucks up ice. He also can join the rush consistently and has the ability to be back in position. Clague gets across the o-zone blueline quick and smooth, with a knack to get pucks to the net. He's also good at shooting for sticks. He's something we don't have in our current lineup."
From Ontario Reign coach Mike Stothers (ed. note: the last word should be show, not snow):
Stutts also praised Clague's versatility / willingness as LHD to play on his off side – Kale looks comfortable on the right side, Toby still doesn't… I keep saying, why wouldn't you want to play both sides? Why pigeonhole yourself? Hell with that, you want to play in the snow!

— John Hoven | The Mayor (@mayorNHL) December 8, 2019

We don't normally have current Kings players go on the record about players in our Prospect Rankings, however we recently asked Drew Doughty about Clague on a conference call:
"He can skate like the wind, the way he can move those feet, that's kind of the way defensemen are going in the league these days. They're looking for guys that can move their feet, go end-to-end and stuff like that, rather than good defenders. Kale's very good at that, you saw that watching him play. Obviously, we've got to work on a little bit of defense with him."
On the fun side of things, keep an eye on Clague's number in the near future. He's told us his strong preference is to wear No. 10 in LA, with No. 51 his backup number (explained here). Currently, Clague has been assigned No. 34 in Los Angeles – in part due to the fact Michael Amadio and Austin Wagner are occupying his preferred numbers. Then, to add an even further layer of complexity to the mix, fellow Kings prospect Arthur Kaliyev has told us he wants No. 34 in Los Angeles, as it's the only number he's ever worn, going back to first lacing up skates as a kid. Let the musical chairs begin.
Strengths: Skating, puck distribution, joining the attack
Needs to work on: One-on-one defending, mental and physical assertiveness
Outlook for 2020-21 season and beyond: As we recently noted on twitter, the current plan calls for Clague to split time in the NHL next season with Bjornfot. Essentially, they will rotate that spot on the roster. Both players can move from the NHL-AHL without going through waivers. Of note, Clague will run out of waivers at the end of the 2020-21 season. Thus, next season will be a critical year for him to establish himself as a full-time NHLer.
Get to Know the Player: Heading into Training Camp we caught up with Clague, where he not only talked about breaking his foot the night before his callup last season, yet we also had some fun with LA Kings trivia. [LINK]
7. MIKEY ANDERSON: Defense, Ontario Reign (4th round pick in 2017, USHL)
Last Season: 6 goals, 21 assists, plus-22, 18 PIM in 40 games played (NCAA)
This Season: 3 goals, 12 assists, minus-10, 18 PIM in 53 games played (AHL)
Like Clague, Anderson is another highly regarded blueliner in the Kings system. He captained Team USA to a silver medal at the 2019 World Junior Championship and was a key contributor to Minnesota-Duluth winning back-to-back NCAA Championships before turning pro last spring. After spending the majority of this season with AHL Ontario, he made his NHL debut against his brother, Joey, and the New Jersey Devils in late February.
After his third NHL game, March 5th vs. Toronto, we asked Kings coach Todd McLellan for his assessment of the young blueliner:
"He reminds me a lot of Matt Roy when I watch him play," McLellan said at the time. "When we talk about him and review the games, he breaks up a lot of plays, simple little stick and body positioning, fairly good outlet pass to begin with and gets it out of his hands and to the forwards. I saw him jump into the play a little bit tonight, whether it was creeping in from the blueline or not. I think there's a good shot there and we have to get him to be willing to use it. He's been impressive for a young man who's never played in the league before and to come up and contribute the way he has is impressive."
In a more recent chat with a Kings executive, we were given the following analysis – "He's a quick learner; picks up on things real fast. I've only had to tell him things once. He's all in, has a champion mentality. His leadership traits and hockey sense are terrific. Mikey's transition from the AHL to NHL was as smooth as we have seen. After two shifts you could see he fit in. When he's on the ice, coaches seem to relax."
The high praise doesn't stop there. We also asked Doughty about Anderson during that same conference call mentioned previously.
"Good player," said Doughty. "I see more offensive upside in [Tobias] Bjornfot, but Mikey Anderson just seems like, he's very calm too, makes good plays. I'd say more defensive than Bjornfot but very impressed with his game and the way he is off the ice as well."
Back to McLellan, who we again asked about Anderson during a conference call while the NHL is currently on pause:
"Mikey is a player I'm familiar with going back a few years. I got to see him play college hockey against my son on a regular basis," noted the veteran coach. "I could see the evolution in his game, the strength, the growth, the physicality, the leadership skills that he took on in Minnesota-Duluth and how it transferred over to training camp. When he arrived at training camp, he arrived like any other rookie and maybe a little intimidated and not sure what to expect or how things were going to happen. Had a pretty good training camp, but it was evident that he needed more time in the American league and he certainly took advantage of his time there.
"The coaching staff and teammates around him did a tremendous job helping him get up and running. There's the value in spending time in the American league right there. He's a perfect example of it. Wasn't ready to play, shouldn't be rushed into the league, needs time there. Honed his skills, his game, understood the system so when he got into an NHL situation, he was comfortable for the most part. The nerves still exist and you get a little intimidation when you first come up, but he settled in very quickly and you could see that he's a cerebral player, very smart and uses his skillset to his strength and doesn't play outside his own box and never really gets flustered. As we move forward, I think his leadership skills are going to come out a little bit more as he feels more and more comfortable in the locker room and the team transitions."
Make no mistake about it, Anderson is the real deal.
Even so, some might be wondering, 'Why is Anderson ranked ahead of Clague for the second year in a row?' To put it bluntly, one is playing closer to the lowest end of his potential, while the other is playing more toward the higher end of his potential. On a contending team, Anderson is most likely a No. 4 defenseman, while Clague should be a No. 3. When scouts watch Clague, they see the best and worst-case scenario. Depending who they are, they see a three or a five. Anderson, as a solid four, splits the good Clague and the bad Clague. Generally speaking, they're tied together because if Clague misses his potential, he'll be just below Anderson and if he hits on his potential, he'll be on the other side of Anderson. So they're linked because Clague has potential that Anderson doesn't have and Anderson has intangibles that Clague doesn't have.
Strengths: High Hockey IQ, Winner, Thorough
Needs to work on: Strength and Conditioning
Outlook for 2020-21 season and beyond: Avid readers of our Prospect Rankings already know we've spent the past few years touting Anderson as somebody who will eventually wear a letter in LA.
Get to Know the Player: Mikey Anderson talks getting his first Upper Deck hockey card of himself [LINK]
Next up, we'll round out the bottom half of the Top 10 with additional reports posting soon.
RELATED CONTENT:
Kings Goalies Stauber and Petersen Reunited at 2020 AHL All Star Classic
LA Kings 2019 Midseason Prospect Rankings: The Top Two Players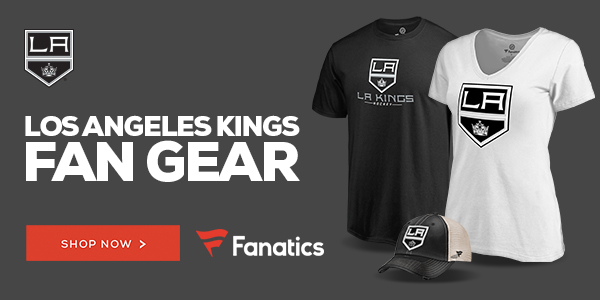 Note to webmasters/reporters: When recapping news or interviews from this site please remember to include a link to www.MayorsManor.com