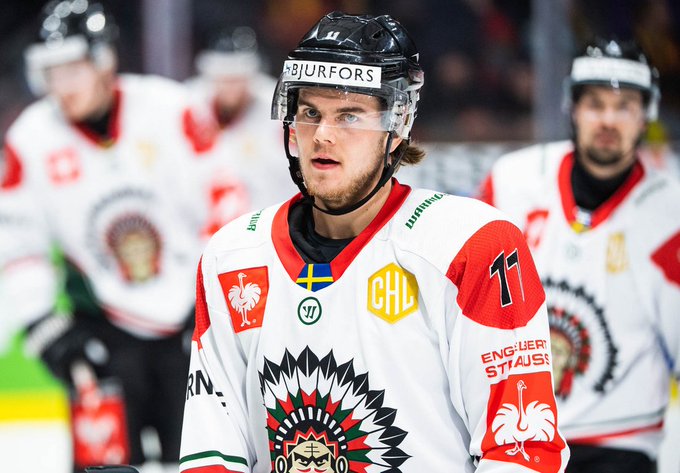 While the parent club concluded another leg of the regular season up until the all-star break, future Kings and hopeful professionals continue in their own respective leagues.
EUROPE
Samuel Fagemo: Forward, Frölunda HC, SHL (2nd round pick in 2019)
Regular season: 7 goals, 6 assists, plus-0, 6 PIM in 24 games played
The Swedish speedster was held off the scoresheet in the SHL. In CHL action, he picked up an assist in, which helped push the Indians to a 3-1 win in a rematch. Due to goal differential, Frölunda advanced to the CHL final against Czech Republic's Mountfield – currently managed by former Kings player Jaroslav Bednar. Mark your calendars for February 4, when the two teams are scheduled to meet.
Jacob Moverare: Defense, Frölunda HC, SHL (4th round pick in 2016)
Regular season: 5 goals, 7 assists, plus-14, 10 PIM in 33 games played
One of our honorable mentions had a quiet overall week, as he failed to put up a point for the Indians in three games played.
Kim Nousiainen: Defense, KalPa, Liiga (4th round pick in 2019)
Regular season: 3 goals, 6 assists, minus-5, 24 PIM in 33 games played
There was no movement on Nousiainen's numbers this week, as he was out with the flu. We expect him to return by the end of this coming week.
Bulat Shafigullin: Forward, Reaktor Nizhnekamsk, KHL (3rd round pick in 2018)
Regular season: 9 goals, 8 assists, plus-7, 10 PIM in 12 games played (MHL)
0 goals, 0 assists, minus-1, 0 PIM in 2 games played (KHL)
The Russian forward has not yet returned to action since November, and there are currently no updates to his return.
NCAA + USHL
Braden Doyle: Defense, Dubuque Fighting Saints, USHL (6th round pick in 2019)
Regular season: 6 goals, 15 assists, plus-9, 4 PIM in 30 games played
Doyle played one game this week, and he didn't register a point. He was on the ice for the lone goal against, a short-handed goal, where he was unable to muscle the would-be scorer off the puck.
Dávid Hrenák: Goalie, St. Cloud State University Huskies, NCHC (5th round pick in 2018)
Regular season: 7-7-4, 2.84 GAA, .901 SV%, 1 SO in 20 games played
Perhaps the Slovak stopper was more motivated than usual this week, since he lost to Minnesota-Duluth in the NCAA Championship last year. He made 59 saves on 60 shots over the weekend, and one such bout was a 27-save shutout.
St. Cloud State junior goalie David Hrenak gained his first shutout of 2019-20 with a 2-0 win over defending national champions Minnesota Duluth. He now has 8 career shutouts, which ranks 2nd in the team records. pic.twitter.com/J3TdXkrJj9

— NCAA Ice Hockey (@NCAAIceHockey) January 19, 2020
Cole Hults: Defense, Penn State Nittany Lions, Big Ten (5th round pick in 2017)
Regular season: 4 goals, 16 assists, plus-14, 18 PIM in 24 games played
While Penn State was blanked in their first bout against Michigan, Hults picked up a helper on the game-tying goal in the dying minutes of regulation in game two. He's also earned himself a bit of an iron man reputation, as he has not missed a game since putting on Penn State gear.
Junior @ColeHults hasn't missed a game since stepping foot on campus and tonight he will be playing in career game No. 1️⃣0️⃣0️⃣!! #WeAre #HockeyValley pic.twitter.com/9QRtxNkPS2

— Penn State Men's Hockey (@PennStateMHKY) January 17, 2020
Andre Lee: Forward, UMass-Lowell River Hawks, Hockey East (7th round pick in 2019)
Regular Season: 7 goals, 11 assists, plus-7, 16 PIM in 22 games played
Andre Lee's scoring streak extended to three games, picking up a goal and two assists. One such helper this week was less than two minutes into the bout, as he battled with a defender to free the puck so his line mate could break in and score.
Andre Lee with a pretty goal to make it 4-1 #RiverHawks pic.twitter.com/b2Xz8XsI6I

— UMass Lowell Hockey (@RiverHawkHockey) January 19, 2020
Alex Turcotte: Forward, Wisconsin Badgers, Big Ten (1st round pick in 2019)
Regular season: 6 goals, 10 assists, minus-10, 14 PIM in 20 games played
Turcotte had another weekend where he failed to put up a point, but as usual, it's not from lack of effort. He's often lined up with Cole Caufield and one of Dylan Holloway or Linus Weissbach, and he has set up Caufield multiple times. The line was sent out frequently after generating momentum for the Badgers, but the scoring has just not been there. Turcotte's last goal was November 9, and he has just one assist in his past 10 games. He received what looked like a headshot, but he didn't miss any time as a result of the hit.
Not the greatest look at this one, and I'm guessing the referees had other angles to watch, but this is the hit by Michigan State's Cole Krygier on Alex Turcotte on Saturday that the #Badgers challenged for head contact. No call after replay. pic.twitter.com/lctac3WHvh

— Todd Milewski (@ToddMilewski) January 20, 2020
CANADIAN JUNIOR LEAGUES
Aidan Dudas: Forward, Owen Sound Attack, OHL (4th round pick in 2018)
Regular season: 11 goals, 22 assists, plus-11, 10 PIM in 33 games played
Owen Sound has been keeping their collective heads above water in the standings, as they are tied with Erie for the bottom two playoff spots. Dudas has contributed an assist in his efforts, helping the team to a 2-1 record this week. He found other ways to have fun since our last update.
Little pregame dance off last night in Guelph between @AidanDudas and a big Attack fan!

Only fair that the winner gets a puck. pic.twitter.com/eC7YcQEGdk

— Owen Sound Attack (@AttackOHL) January 18, 2020
Jacob Ingham: Goalie, Kitchener Rangers, OHL (6th round pick in 2018)
Regular season: 21-4-4, 2.65 GAA, .925 SV%, 2 SO in 29 games played
Ingham saw his individual numbers take a mild hit when he allowed seven goals in the two games he played this week. Both performances were victories, so the team benefited as a whole.
@JacobIngham_ works on finding consistency with his overlap during #DevelopmentProgram @BauerHockey
–#PROgoaltending#BauerGoalie#GoalieTraining#OHL#KitchenerRangers#RTown pic.twitter.com/9LJ0kg2hfu

— PRO Goaltending (@PRO_Goaltending) January 14, 2020
Arthur Kaliyev: Forward, Hamilton Bulldogs, OHL (2nd round pick in 2019)
Regular season: 31 goals, 38 assists, plus-4, 20 PIM in 36 games played
It was an uncharacteristically quiet week for Kaliyev. One game was rescheduled due to issues with the ice system. In the one meetup with Ottawa, the sniper found himself penciled on the third line to start. He didn't score, and Hamilton was blanked by the 67's. He hasn't had a scoring drought longer than a game this season, so look for him to get back on the scoresheet soon.
#OHL: Still working on this HAM-OTT first period and Jan Mysak connects with Arthur Kaliyev (LAK 2nd/2019) on the PP. With Kaliyev's release on that kind of a setup, 50/50 that puck is already in the net. pic.twitter.com/9F5JaQyUTI

— Steve Kournianos (@TheDraftAnalyst) January 18, 2020
Lukáš Pařík: Goalie, Spokane Chiefs, WHL (3rd round pick in 2019)
Regular season: 11-4-2, 2.81 GAA, .913 SV%, 0 Shutouts in 18 games played
The native of Czech Republic had a forgettable week, unfortunately. He found himself chased out of the net early in the second period, then let in four goals en route to a 5-3 loss in his next opportunity.
Markus Phillips: Defense, London Knights, OHL (4th round pick in 2017)
Regular Season: 0 goals, 1 assist, plus-0, 0 PIM in 5 games played
A steady presence on the blueline is just what the doctor ordered for London, and Phillips is the prescription. The Knights have rolled to a 4-1 record since acquiring the native of Toronto, Ontario, and they've held the opposition to two goals or less in four of the games. Phillips was not brought in to be a scorer, and his revitalized style as a stay-at-home defenseman has been key to bolstering an already strong roster.
Jordan Spence: Defense, Moncton Wildcats, QMJHL (4th round pick in 2019)
Regular season: 5 goals, 27 assists, plus-23, 18 PIM in 38 games played
Three points in a game isn't common for defensemen, but Spence had his first three-point performance since Halloween. For the first time in his career, he potted two goals in one contest.
https://twitter.com/DenisL_1981/status/1218911414364069889
Akil Thomas: Forward, Peterborough Petes, OHL (2nd round pick in 2018)
Regular season: 16 goals, 39 assists, plus-10, 34 PIM in 31 games played
Since Thomas' trade to Peterborough, he has been a valuable asset. He picked up a goal and ten assists in four bouts, having a hand in 58% of the team's scoring. He's riding a five-game scoring streak, which started in his tilt game for Niagara. During that streak, he's tallied four times twice.
Keep in mind, this weekly tracker only covers prospects not playing professional hockey in North America. In essence, the report serves to provide updates on all players in the pipeline — signed or unsigned — excluding those in the NHL, AHL, and ECHL.
NOTE: Author David Hofreiter can be found on Twitter @Davidenkness if you're interested in talking more hockey with him or asking further questions about these players.