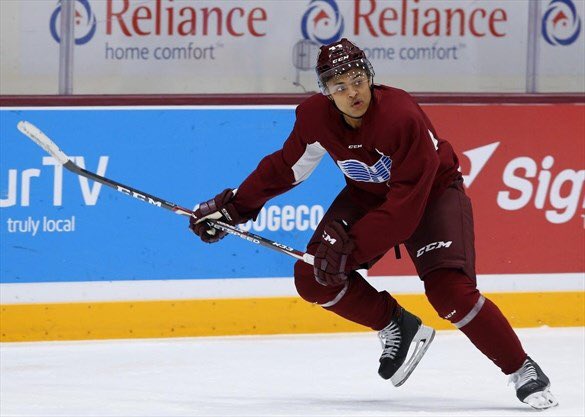 With the holidays and World Junior Championship concluded, all the healthy prospects have resumed their regular season play. Some of the futures haven't lost a step, while others have found a new home after the CHL trade deadline.
EUROPE
Samuel Fagemo: Forward, Frölunda HC, SHL (2nd round pick in 2019)
Regular season: 7 goals, 6 assists, plus-3, 4 PIM in 22 games played
After earning bronze and ending the WJC as the top scorer, Fagemo continued putting up the points in his return to CHL and SHL play. He tallied a goal and two assists in three match-ups. The Indians backs were put in a corner, however, as they lost to Lulea 3-2. A rematch was already scheduled for January 14, with the winner of the series advancing to the CHL final.
Jacob Moverare: Defense, Frölunda HC, SHL (4th round pick in 2016)
Regular season: 5 goals, 7 assists, plus-15, 10 PIM in 31 games played
Moverare didn't pick up a point last week amid a three-game losing streak.
Kim Nousiainen: Defense, KalPa, Liiga (4th round pick in 2019)
Regular season: 3 goals, 6 assists, minus-5, 24 PIM in 33 games played
Perhaps the WJC was just what the doctor ordered for Nousiainen, who picked up a goal and an assist since Finland failed to medal. His goal, which was his first on the road, was an icebreaker, opening up the scoring en route to a 5-2 win. The two points in three games last week was the best scoring rate since the season began.
Kim Nousiainen scores his third goal of the season. #Liiga #GoKingsGo pic.twitter.com/HotEPIYkw1

— Lassi Alanen (@lassialanen) January 10, 2020
Bulat Shafigullin: Forward, Reaktor Nizhnekamsk, KHL (3rd round pick in 2018)
Regular season: 9 goals, 8 assists, plus-7, 10 PIM in 12 games played (MHL)
0 goals, 0 assists, minus-1, 0 PIM in 2 games played (KHL)
Shafigullin has not dressed up yet since our last update, and no timetable for his return has been provided.
NCAA + USHL
Braden Doyle: Defense, Dubuque Fighting Saints, USHL (6th round pick in 2019)
Regular season: 6 goals, 15 assists, plus-6, 12 PIM in 29 games played
Dubuque's top blueliner has gone through a bit of a scoring drought with only two assists in six games. The struggle has mirrored the team's performance, who won just once in the same span.
Dávid Hrenák: Goalie, St. Cloud State University Huskies, NCHC (5th round pick in 2018)
Regular season: 5-7-4, 3.12 GAA, .890 SV%, 0 SO in 18 games played
As the Huskies continue to struggle, the Slovak goaltender hasn't seen as many starts. He's had one start since letting three goals in the first period in mid-December. He lost, but to his credit, it was a stellar 42-save performance.
Cole Hults: Defense, Penn State Nittany Lions, Big Ten (5th round pick in 2017)
Regular season: 4 goals, 15 assists, plus-15, 18 PIM in 22 games played
The soon-to-be professional played just one game last week. He picked up an assist, which extended his scoring streak to three.
Andre Lee: Forward, UMass-Lowell River Hawks, Hockey East (7th round pick in 2019)
Regular Season: 6 goals, 9 assists, plus-6, 14 PIM in 20 games played
Lee picked up his sixth goal of the season last weekend against RIT, keeping him in seventh overall among Hockey East freshmen in scoring.
Alex Turcotte: Forward, Wisconsin Badgers, Big Ten (1st round pick in 2019)
Regular season: 6 goals, 10 assists, minus-7, 14 PIM in 18 games played
The returning USA center has faced some internal adversity. In the WJC, he picked up two points in five games. He didn't score on Friday, which extended his pointless streak in the NCAA to seven games dating back to November. However, he finally earned a helper in Wisconsin's latest win against Ohio State on Saturday to get out of the rut.
Alex Turcotte sets up Caufield in Wisconsin's 5-2 win over Ohio State#LAKings pic.twitter.com/qGhyrfyvQ2

— Eric (@Kingsgifs) January 12, 2020
CANADIAN JUNIOR LEAGUES
Aidan Dudas: Forward, Owen Sound Attack, OHL (4th round pick in 2018)
Regular season: 11 goals, 21 assists, plus-10, 10 PIM in 26 games played
The native of Parry Sound, Ontario assisted on two goals since coming home with gold. He's on a two-game pointless streak. He's still fifth overall in team scoring, despite missing over a month due to injury and the WJC. The Attack were pushed to ninth overall in the Conference, which would keep them out of the playoffs.
Jacob Ingham: Goalie, Kitchener Rangers, OHL (6th round pick in 2018)
Regular season: 19-4-4, 2.59 GAA, .926 SV%, 2 SO in 27 games played
Kitchener's resurgence continues, and a large deal of credit is owed to the stability and confidence in net. Ingham's 13-1-1 in his last 15 games and faced at least 35 shots in eight of them. His performance in net has pushed him to third overall in GAA and wins and second in the OHL in save percentage. Kitchener sits one point behind Windsor for tops of the conference, which pushed them to make a trade for their own playoff push.
https://twitter.com/OHLRangers/status/1214972341488361474
For the second time in a week, Kitchener Rangers netminder Jacob Ingham has earned OHL honours. https://t.co/2NWGdYaiv6

— Global Kitchener (@GlobalKitchener) January 6, 2020
Arthur Kaliyev: Forward, Hamilton Bulldogs, OHL (2nd round pick in 2019)
Regular season: 31 goals, 38 assists, plus-5, 20 PIM in 35 games played
Hamilton's sniper hasn't found the back of the net since returning from the WJC, where he picked up four goals in five games for Team USA. However, he's picked up seven assists in the OHL, including five in his homecoming game. Despite not scoring a goal since December 13, he's still tied for the league lead in goals.
Kaliyev found a new partner in crime, as his former linemate Jan Jenik was injured in the WJC, so now he's sharing the wealth of scoring.
https://twitter.com/OHLHockey/status/1215665543870631937
Lukáš Pařík: Goalie, Spokane Chiefs, WHL (3rd round pick in 2019)
Regular season: 11-3-2, 2.61 GAA, .917 SV%, 0 Shutouts in 16 games played
Though he returned to North America not winning a medal, the Czech import showed why he was invited and competed on the big international stage. Since coming back, Pařík was 2-1 and stopped 103/111 shots.
Game saving stop from @spokanechiefs Parik here. The Chiefs scored on the empty net shortly after. 5-3 Chiefs. #WHL pic.twitter.com/TJkC6hr8J1

— Stephen Hawco (@stephenhawco7) January 12, 2020
Markus Phillips: Defense, London Knights, OHL (4th round pick in 2017)
Regular Season: 0 goals, 1 assist, plus-0, 20 PIM in 3 games played
After spending most of his season playing professional hockey, Phillips was returned to Guelph, who traded him to an OHL contender in the London Knights. As Los Angeles has a great deal of depth on defense, said move was done not due to performance, but more to give him playing time. As he has revamped his style of play, Phillips provided stability on defense but contributed a helper his first week back in junior hockey.
Jordan Spence: Defense, Moncton Wildcats, QMJHL (4th round pick in 2019)
Regular season: 3 goals, 25 assists, plus-20, 18 PIM in 36 games played
Spence's scoring has tapered off as a whole. He scored at over a point-per-game clip back in September, but has since evolved his style to contribute to Moncton being among the top defensive teams in the Q. He still picked up an assist this past week, and despite his lull in scoring, he's still matching his output from last season.
Akil Thomas: Forward, Peterborough Petes, OHL (2nd round pick in 2018)
Regular season: 15 goals, 29 assists, plus-2, 30 PIM in 27 games played
Thomas has had quite a memorable week. After scoring the gold medal-winning goal, Thomas found himself traded from Niagara to Peterborough to get a chance at the OHL championship. To show their love and appreciation of the speedy swiss army knife, Niagara declared January 9 as "Akil Thomas Day." This was announced after they agreed on said trade. He left Niagara third overall in scoring in franchise history.
While with the IceDogs, Thomas wore No. 44; after his trade to the Petes, Thomas had a bit of a quandary. Steve Montador, who passed away in 2015, was the last player to wear #44 for Peterborough. In an act of maturity and kindness, Thomas reached out to Montador's family seeking permission to wear the number. Montador's relatives reciprocated the class exuded and gave the new arrival permission to revive No. 44.
Amazingly, this doesn't even cap off his news-filled week. On the ice, Thomas tallied a goal and four assists last week in two tilts, having a hand in five of Peterborough's eight goals.
https://twitter.com/OHLHockey/status/1216530435490177024
When @AkilThomas2 found out that Steve was the last Pete to wear #44, he wanted to reach out to his family. Hear what Steve's brother, Chris, had to say when Akil called him after practice today. pic.twitter.com/XJlJSiSGXQ

— Peterborough Petes (@PetesOHLhockey) January 10, 2020

https://twitter.com/LAKings/status/1215108695392059397
Keep in mind, this weekly tracker only covers prospects not playing professional hockey in North America. In essence, the report serves to provide updates on all players in the pipeline — signed or unsigned — excluding those in the NHL, AHL, and ECHL.
NOTE: Author David Hofreiter can be found on Twitter @Davidenkness if you're interested in talking more hockey with him or asking further questions about these players.