While goaltender Jonathan Quick is rewriting the Kings record book on the ice, General Manager Dean Lombardi is doing the same from the front office. It's been a long road to get here for the man hired in April 2006. But, he can now say his teams have made the playoffs three years running and he's only the second GM in franchise history to have his club advance past the second round.
"I remember five years ago when we were a bad team, we were picking second in the draft and on Fan Appreciation Day this place was filled," Lombardi recalled after the Kings second round sweep of the St. Louis Blues on Sunday afternoon. "Now, those people are being rewarded. Like anything in life, it's what you do during the tough times that really says what you're all about and these people were here and I was meeting them at those GM breakfasts and things. But, you know what, they wear the crest on their sleeves. And when you talked to them, they were willing to get behind this. Now, they're being rewarded. I think of those people and nobody deserves this more than them."
He'll never say it publicly, but Lombardi deserves this just as much. He came to a team that needed a complete overhaul from top to bottom and worked tirelessly over the next few years to build an infrastructure – all while trying to create a winning culture where one had never existed before. Then, this year, he had to fire coach Terry Murray, a man he has tremendous respect for. Through all the ups and downs of the last few seasons – including the signings that didn't work out and his star player going down injured just prior to the playoffs last season – the situation with Murray may have cut the deepest.
Then, adding insult to injury, most of the media didn't like his hiring of Darryl Sutter.  However, as we wrote at the time, Sutter was exactly what this team needed. The Kings didn't require a major overhaul or a change in philosophy. The plan executed by Lombardi over the prior five years was near perfect when looked at from 30,000 feet. He had built the team from the net out, assembled a defensive group that was arguably the best in the Western Conference and had added the offensive components to compliment his young nucleus as needed. They just needed a new voice.
"The one thing about this group is they've always cared," Lombardi said. "There's a great group of people in that room and they're learning now to take that next step – from competing to doing what it takes to win. It's all about them. I'm just an orchestrator."
For all the jokes about 'filling the boxes' and adding 'bridge players' to fill the gaps, the maestro of management has also made some shrewd moves along the way – like the trade for Matt Greene and Jarret Stoll.
"The reason they were attractive at the time is they were high-character guys and competitive guys. That's what you're seeing now," explained Lombardi. "They're playoff type players. They had been to the Stanley Cup Finals, they're recognized as leaders in the room and they were perfect guys. You've heard me talk about bringing in draft picks, middle group guys and your older guys – they were perfect middle group guys.  They had experience, but were young enough to grow with the kids we had coming in. They're the ultimate competitors and they're ultimate team guys and they're great fits."
From the moment he arrived, if it wasn't about high-character guys, Lombardi was preaching about the importance of goaltending.  And if he ever forgot along the way, one of his key lieutenants, Assistant GM Ron Hextall, was probably the first to remind him. Although, there's a goalie story both may want to forget about at some point.
"All I think of when I think of Jonathan Quick is, when he was in the East Coast League and he fell asleep on the couch," Lombardi said with a slightly sarcastic grin on his face. "Billy Ranford went down to see him and (Quick) left the goalie coach with no goalie at the rink. That's how far Jonathan Quick has come." After some laughs, Lombardi took it a little further – "I'll never forget that phone call. He's in the East Coast League, Billy went down there to give him his tutoring and Billy's at the rink while Quicker's sleeping. So, you don't think there's been some growth there?"
Known for his fiery temper as much as his love of draft picks, Lombardi said he "did the smart thing" and let Hextall handle the situation. Although, he claims the former Flyers goalie wasn't much calmer than he would have been had he spoken with the young prospect.
But, it's all part of the process – something Lombardi has often reminded people of when speaking about his club. Being one of the NHL's youngest teams is usually a theme that finds its way into the conversation.
As those young players start to mature into elite players, like a proud father, Lombardi enjoys what he sees.
"It is one of the best parts of this job, seeing young people go to another level. When you talk about Dustin Brown, it's been a process. But, from day one, he's always cared. When you have somebody who cares, in any walk of life, you can push them – and there were moments when they had to be pushed and they don't like it all the time. But, they know in the end, because they care, there's a reward. They still have a ways to go, but you can see they're learning a lot."
From forwards like Brown and Anze Kopitar, to defenseman Drew Doughty, each has had to figure out how to make the adjustments necessary to move from promising prospect to consistent performer.
"It's still a process," said Lombardi, when asked for his assessment of Doughty's growth. "I think the thing about Drew though, to his credit, the thing throughout his career – his junior career, the World Juniors and he still has so much of his career ahead of him – he's always (been) a competitor who will rise to the occasion. He got behind the 8-ball this year. But, as much as he struggled at times…always in the back of my mind, like I knew Dustin always cared, this kid's a competitor and (Drew) has a lot of pride. When you talk about a kid growing up, he's learned a lot in a short time."
So, how did the Kings even get to this point? Coming into the season they were expected to contend for a top seed in the Western Conference, but barely made the playoffs.  Now, after knocking off the number one and two seeded teams, they're just four wins away from a trip to the Stanley Cup Finals. When did it all turn around?
"I think it was a combination of things," began Lombardi. "But, we lost that game in Detroit (March 9) when we were in the dogfight of our lives, we had a 3-2 lead and we blew it and didn't even come out of there with a point. I think a lesser group of players and coaches probably would've folded. We came home for a six-game homestand and we had to win those games. They were against good teams too – San Jose, Detroit, St. Louis, Nashville – there wasn't an easy one. Those were hard, hard games and those were physical games. And the Boston game too, we could have won that game. Yet, the way they responded coming out of Detroit, to come home and accept that challenge – that was like a playoff series for them…I think they grew a lot during that period and I think they drew on that against Vancouver and they continue to draw upon that."
Much praise can be directed at Lombardi, Sutter, Brown, Quick and the entire team. However, as Doughty has stated several times recently, the Kings didn't come to the playoffs just to win a round or two.
"The reality is we're only the second (Kings) team to go this far. But, like when Mike Richards came here, I told him, 'Hey, there's something about being first too,'" an obvious reference to Lombardi's desire to win a Stanley Cup in Los Angeles. "It's nice to be involved with tradition, that's a great thing…On the other side, it's pretty neat to be a pioneer too."
Dean Lombardi – evil genius, orchestrator and possible pioneer.
One thing's for sure, he's been more than just a 'bridge' for the LA Kings.
RELATED ARTICLES:
Kings to play Coyotes in round three, winner moves on to the Stanley Cup Finals
Word Association – four Kings share thoughts on four of Coyotes leadership group
Making the case for Darryl Sutter as coach of the LA Kings
Exclusive: One-on-one with Dustin Brown, talking trade rumors
Even with half the numbers, Jarret Stoll is twice the man of most
Dustin Brown talks about the Kings first series sweep and what's next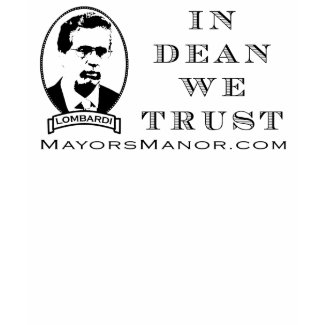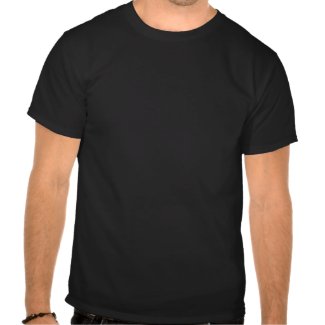 IN DEAN WE TRUST shirt
available at
MayorsManor Store